The TRON ecosystem's first project to integrate the real world with the blockchain is WINk. Its goal is to assist in real-life situations. Wink is a renowned gaming platform dedicated to bringing high-quality decentralized applications to the masses. TRONBet was the platform's name until mid-July when it was renamed Wink and their own native token, WINkLink, was created. TRONBet was the TRC network's first decentralized application. Developers can use a variety of tools on the platform to create unique dApps in the game business.
Price Movement – Winklink (WIN)
The wink coin has a massive supply of roughly 999 billion tokens. Around 96 percent have been distributed in the market, according to coinmarketcap. As a result of this massive supply, wink has become extremely volatile, with many surprising reactions to various zones.
At the time of writing, the price of WINkLink is about $0.000458, up only one percent in a day and down around 10 percent in the previous seven days. The volume today has increased by almost 14%. The new volume is around $314M.
Overall in the month of December, we have seen a decrease of almost 33%. According to its market cap, the currency is ranked 152. WIN ATH is now around $0.002970.
Technical Analysis – WinkLink (WINk)
Wink has been bearish for a lot of time. The price had been creating lower lows for quite some time and the price had been decreasing. During the drop in the price, WINK created an order block on the daily time frame. This order block hasn't been mitigated to date. This can drive the price upwards.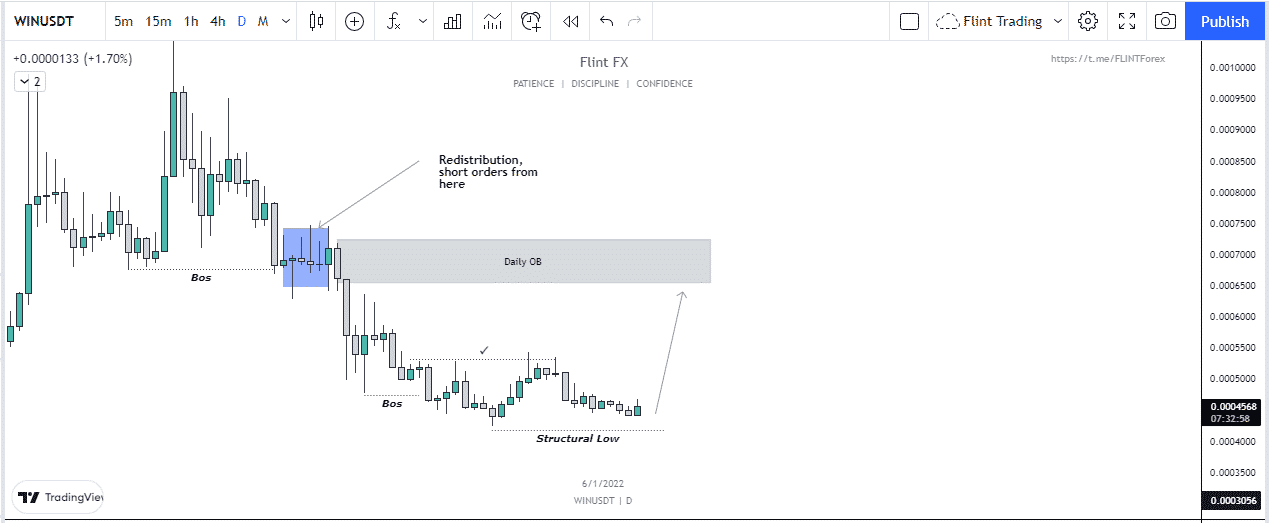 Now the price has created a structural low. The price of WINK has slowed down which means that the bears are losing their steam. Now, as a result, we can expect a move from the coin very soon. The target for this move could be the order block that lies above from where the major red candles had been printed.
Price Prediction – WinkLink (WINk)
According to Walletinvestor WinkLink is not a good investment. According to their prediction, the price of Wink is to decrease to almost half of what it is right now. They think that in one year, the price is to reach a value of almost $0.000274 in one year. But traders are quite optimistic about the price movement and think that it would be valued much more in the future.