Verge (XVG) is a private coin. Where Bitcoin and other public ledgers offer complete transparency, privacy coins ensure that the users' information and transaction details are completely anonymous. Verge cryptocurrency is different than other popular privacy coins in its offering. Verge coin uses The Onion Router (TOR) and Invisible Internet Project (I2P) which masks the IP address of users all the while not compromising on the public ledger. The transactions are available on the blockchain and are publicly verified. They just cannot be traced back to users.
If you are looking into buying Verge cryptocurrency some of the things you should keep in mind are the cryptocurrency's recent performance and its future price projections.
Verge (XVG) price development
In December last year, Verge coin was trading at $0.0078, and right into the new year, the cryptocurrency went up to $0.016. Ever since then, Verge coin has had major price fluctuations all the while going upwards. Verge went as high as $0.028 before its price suffered a major loss due to an unsuccessful reorganization attempt. However, Verge (XVG) recovered quickly and is now standing at $0.03.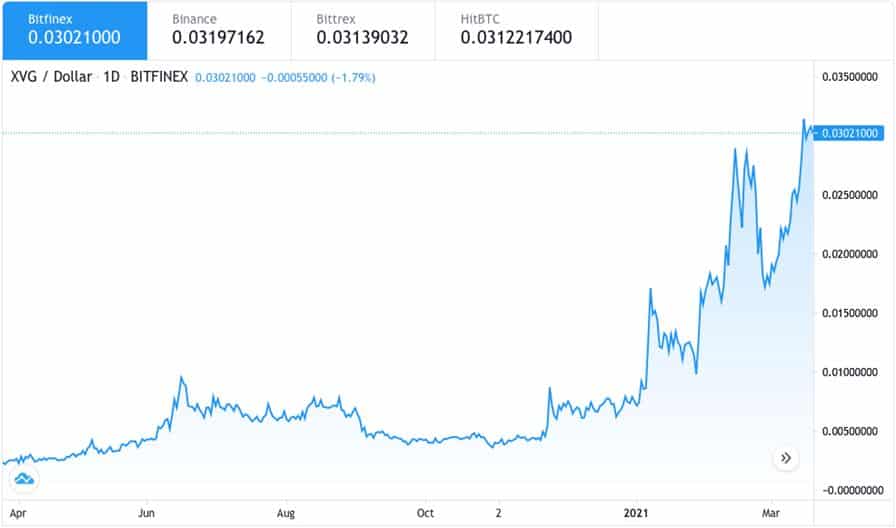 The market sentiment for cryptocurrency is bullish. A majority of the technical indicators are giving out a signal of buy, out of which the oscillators are neutral while the Moving Averages stand at a position of strong buy. In the 24-hour timeframe, the price of Verge increased by 3.44% while the daily trading volume went up by 12%. Verge has a market rank of 109 with a market capitalization of $514,723,199 which also increased by 2%.
Technical Analysis
Traders are extremely bullish on cryptocurrency and many analyses suggest a price explosion for Verge in the coming days. A trader has identified a target price of $2 for Verge based on the technical. The trader is suggesting a long position for the coin and believes that Verge will reach the target price in a fluctuating upward trend.

During the recent bull-run, Verge coin had broken out of a symmetrical triangle formation and the price of the cryptocurrency has been on an upward trend ever since.
Price predictions
Trading Beasts is expecting a gradual rise of the price of Verge over the years. By 2024, Verge (XVG) is predicted to be standing at a price level of $0.046. Digital Coin Price is extremely bullish on the cryptocurrency and are projecting a price of $0.098 by 2025.
Verge (XVG) has been rising in popularity. Started off in 2014 as DogeCoinDark, the privacy coin is expected to continue to rise in value – making it a good investment. Like all other cryptocurrencies, the price of Verge is closely tied to that of the king of the market – Bitcoin – and a renewed bullish trend in the market can possibly help the coin "to the moon". However, investors also need to take into account the volatility of cryptocurrencies before picking any coin.