The leading decentralized exchange, Uniswap, has moved a step closer to its third iteration as it has announced the successful deployment of V3 smart contracts to Ethereum'stestnets. The smart contracts are now on Ethereum'stestnets – Ropsten, Rinkeby, Kovan, Goerli – and the testnet addresses have been posted on GitHub. Amidst the developments of Uniswap V3, the DEX has also reported a record high weekly trading volume of $10 billion.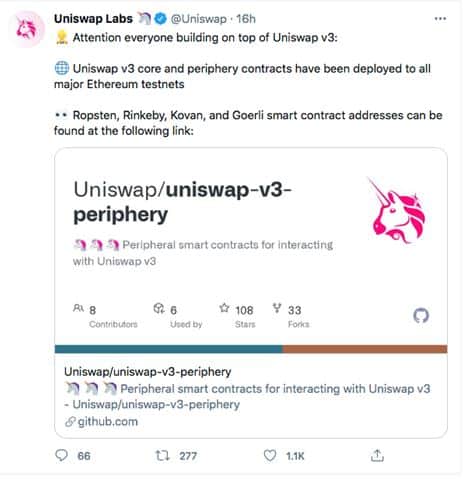 Uniswap V3 is the newest iteration of the Uniswap protocol. The iteration is designed to provide better capital efficiency for users and greater capital control for lenders. This will be done through the two hallmark features of the iteration – concentrated liquidity and multiple fee tiers. The result will be the most efficient and flexible AMM ever made, according to Uniswap's team.
Uniswap has a high valuation and dominance in the Automated Market Maker sphere but the new iteration will further boost the DEX. Previously, the announcement of the V3 had led to a surge in the price of the native token of the governance. The launch of the V3 iteration will probably result in another price surge of the native token, UNI.
The iteration is set to launch on May 5.