The second quarter of 2021 has been almost the exact opposite to the first one. While the first quarter of the year saw new all-time highs and record adoption and acceptance of cryptocurrencies, the second quarter is marked by panic-selling and un-ending bearish momentum.
While the bears were dominant in the second quarter, there were still cryptocurrencies that outperformed others. The outperformers in the second quarter were: Dogecoin (DOGE), Ethereum Classic (ETC), Ripple (XRP) and Ethereum (ETH). The outperformers ended the quarter with positive gains while others had succumbed to the bears.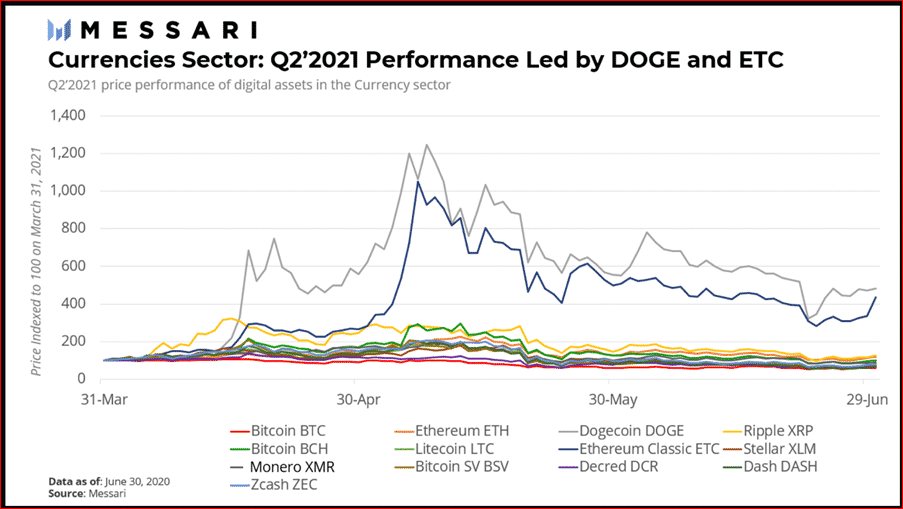 Dogecoin (DOGE) had a positive change of 325% in the second quarter. The performance of Dogecoin can largely be attributed to the "Doge-father" – billionaire CEO Elon Musk. Musk has been a champion of cryptocurrency and had been behind most of the cryptocurrency's price rallies.
Ethereum Classic – the hard fork of Ethereum – had a return of 268%. The quarter had been eventful for Ethereum Classic as the development team published a detailed roadmap and the budget for 2021. ETC coin also saw various software releases and network upgrades which contributed to its growth in the quarter.
Ripple (XRP) had been going strong ever since the bears from the Ripple Labs vs. SEC lawsuit took a backseat. The cryptocurrency outperformed by 12% in the quarter. The lawsuit continues with full force but the counsel of Ripple Labs argue that the SEC has singled out XRP. The price of XRP has become near-immune to the lawsuit.
Ethereum (ETH) – the queen of the market – ended the second quarter with an increase of 13%. Ethereum begun the Layer 2 scaling solution led by Polygon in the second quarter. Upgrades and proposals were implemented to take care of the issue of high gas fees on the network. The network is also moving towards a proof-of-stake mechanism.