The present conditions have brought on inflation levels that have surpassed the record of prior decades. The global economic system faces several pressures. These include a post-pandemic demand surge, coupled with supply chain complications, owing to the Russian invasion of Ukraine. Moreover, the hiking of interest rates by the US Fed to combat inflation continues to make borrowing more costly, which thus makes business expansion and stocks in inflation far more challenging.
Given the severity of these inflationary pressures, investors are rightfully turning to stocks as a hedge against these circumstances. Generally, investing in stocks is a go-to approach for many that seek to inflation-proof their funds. Just as the price of commodities sees a general upward rise, so too does that of shares in public companies. This is especially true for value stocks, as opposed to growth stocks. In this article, we present the top 5 stocks you could invest into inflation-proof your stock portfolio.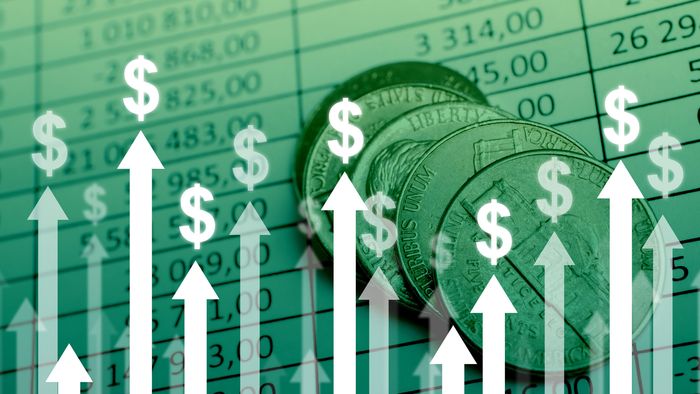 Apple
The first stock for inflation we present is that of the undisputed tech king, Apple Inc. (NASDAQ: AAPL). Apple is one of the few stocks that needs no introduction. The company is valued at over $2.7 trillion, in terms of market capitalization, making it one of the most valuable in the world.
Apple is typically the first inflation-proof stock to come to mind for many seasoned investors, given the various attributes it holds, which makes it ideal for this purpose. For one, unlike most companies, Apple has both an affluent, and highly loyal customer base, which gives it substantial pricing power. For this purpose, passing on inflated costs to consumers is unlikely to impact its overall demand. Secondly, the company benefits from fixed-cost, long-term supply contracts, as a result of which its exposure to inflation remains limited, to a large degree.
The third aspect to consider here is Apple's robust balance sheet, which reports almost $200 billion in cash and investments. Given the interest rate hike in response to such inflation, Apple's interest returns have been seeing a boost, which is likely to offset the costs of inflation, keeping its business largely sustainable. Apple is an extremely safe investment choice, and optimal to buy and hold for a period of inflation.
Waste Management Inc.
The second stock for inflation is the American giant, Waste Management Inc. (NYSE: WM). Valued at over $70 billion, Waste Management represents a stable and sizeable operation that caters to both the United States and Canada. WM provides waste management and recycling services to millions of residential customers, as well as to municipal, industrial and commercial clients.
The most apparent advantage that WM offers is its large capitalization, which makes it far more likely to remain immune to macroeconomic volatilities. Moreover, given the nature of its business, WM is far from being a trendy stock that grows in and out of public interest. The company offers services which remain at a constant level of demand, despite external circumstances.
Where technological breakthroughs offer the promise of explosive growth, they also come with a fair share of risk. WM on the other hand sticks to what it does best, in the most operationally efficient manner it knows. This gives the company a predictable income stream, which makes it a safe stock in these uncertain times.
The company also pays out a nice dividend, with a yield of 1.6%. Its management commits to steadily increasing this over the years, as a result of which its 5-year annualized dividend growth rate stands at almost 9%. From an inflation standpoint, this is quite advantageous to hold, as opposed to non-dividend paying stocks. The primary reason is these periodic payments offset the loss in purchasing power that typically comes as a consequence of inflation. WM is a safe and reliable stock you can count on to hedge your portfolio in these inflationary conditions.
Newmont Corporation
Next up on our list of stocks for inflation is the gold producer and explorer, Newmont Corporation (NYSE: NEM). Gold in general is seen by many as a safe haven stock during economic tough times, especially when these times involve inflation. In this context, gold is the go-to choice for investors, given the stability in its market price, owing to its rarity.
Newmont Corporation is the ideal pick for those that have decided to hedge their portfolios against inflation through gold. Newmont is the global world leader in the gold industry, and with a market capitalization of $37 billion, stands as the largest player against all its peers. The company is also the only gold player listed on the S&P 500. The company's financial performance is another crucial factor here. Newmont is one of the few that has consistently seen its revenue rise since 2018, even during the pandemic in 2020. In 2021, its annual revenue was reported at $12.2 billion, in comparison to the prior year's figure of $11.5 billion.
Furthermore, the company is one that is extremely resilient to recessions, given its recent financial performance. Other commodity prices typically fall during recessions, yet gold maintains its stability through these conditions. This in large part explains Newmont's stellar performance in the prior year. It also points to why the stock is great for consideration in the present economic climate.
Federal Realty Investment Trust
The fourth stock for inflation, we bring to you is the REIT, Federal Realty Investment Trust (NYSE: FRT). FRT is a great inflation time stock for two core reasons. The first is that being a REIT, it is unlikely to be impacted in conditions of rising costs. With its longstanding history since 1962, and its stream of income diversified across vast areas of the real estate realm, the REIT is one of the best worth considering. In fact, FRT is well known for going against the tides even in the most severe economic crises of the last half-century. What better stock to opt for that has a proven track record of faring well in tough times?
In addition to its historical performance, owing to the nature of its business, another strength of FRT is its status as an absolute dividend king. The company has been increasing its annual dividend payment to its shareholders for the last 54 years without fail. With its yield at over 5%, this is spectacular to consider. Not only would FRT be a great store of value in times of inflation, but it would also be enhancing one's liquidity and income through periodic payments. FRT truly offers the best of both worlds.
Epam Systems Inc.
The final stock for inflation on our list is the renowned software champion, Epam Systems Inc., (NYSE: EPAM). The company provides specialized software packages to client companies across the world and is at the forefront of high-value outsourcing. Ever since the Covid-19 pandemic triggered a global transition towards digitization, EPAM has been performing exceptionally, on the financial front. Despite the shutdowns, companies remain committed to focusing on enhancing their digital presence. The critical nature of the company's services also plays a significant role in ensuring its performance during inflation as well as in recession.
Furthermore, it is impressive that the positive momentum in EPAM's performance appears far from slowing down. In just the first quarter of 2022, EPAM reported a revenue figure of almost $1.2 billion, which came at a 50% year-on-year increase. It had achieved such striking success despite its significant exposure to the Ukraine-Russia military conflict. In fact, when the conflict had broken out, EPAM saw a price plummet, as investors feared the worse. Despite these concerns, the company's performance has only increased its gears. Where the analyst consensus for quarterly EPS was set at $1.75, EPAM had gone on to report a figure of an impressive $2.49.
EPAM is a winner in every sense. For those looking to safely ride through this wave of inflation, the best bet is to stick to winners such as EPAM.
Conclusion
For those looking to cash in on a regular income that is both steadily growing and sustainable, there is no better place to start than a stellar, dividend-paying portfolio. The best stocks of this class are those that ensure through growth that investors maintain their purchasing power throughout the pressures of inflation. It also ensures modest growth of their capital while they enjoy their dividend income. Each of the stocks for inflation mentioned in this article strike this core balance, and hence is a must-buy for 2022.