Starting the technical analysis of Jasmy from the higher time frame, precisely the monthly chart first. It can be observed that after it was launched on Binance, the coin has been making lows since then. The bearish volume is pretty much strong for bulls to take over.
Moving down to the Daily Time Frame, price is clearly making lower lows which shows that the order flow is bearish, The void that was left on 18th March 2022, has been completely filled up. Still, the price hasn't shown any bullish intentions and no structural shift has been observed yet. The demand zones that were formed on 9th and 14th march 2022 were flipped by the continuous supply in the market. So for now there is no indication in the market which shows that bulls might be taking over.
Moving down to the 4-hour time frame, the last trading range can clearly be seen. The last low and the last high has been marked up as shown in the chart. The price still hasn't been able to break the structure by even its wick and if we observe, the price is within the last supply zone as well from where the last momentum of bears was seen. We did have an internal break of structure in the market but that was merely to induce buyers within the market to liquidate as much as possible.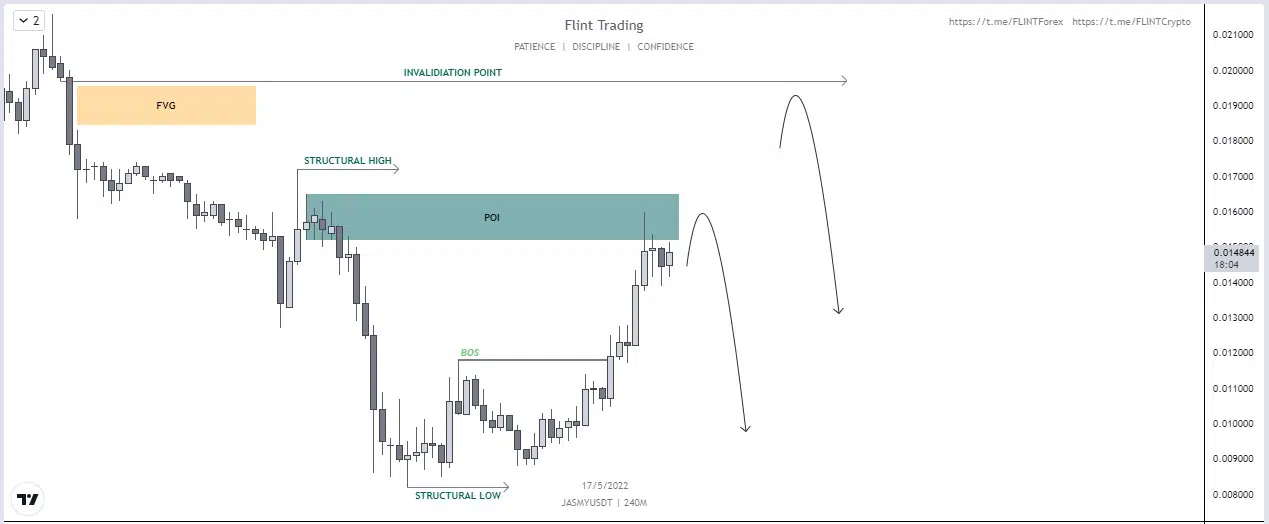 Now one thing to mention here is that the retracement should be corrective in good cases while right now, in this case, the retracement is impulsive. So there is a possibility that this supply zone gets flipped and the price might rally a bit more. So if this is the case that happens, then there is another zone from where the price may react which is the fair value gap (FVG) as marked in the chart. It's a possibility that the price reacts and if the price doesn't and breaks the Invalidation Point, then this view will be invalidated as in that case, the price would break a macrostructure which would result in a structural shift.
The movement depends a lot on BTC as well, as it's pushing down so it's ideal to go for short setups in altcoins as well, but if there is a bullish momentum in BTC movement, then there would be a need to reanalyze this setup.