India, the second most populous country, has been fighting for cryptocurrencies. The merging market has a gigantic gross product of $2.8 trillion and has the potential to become a true economic power. Unlocking the world of cryptocurrency to the huge population will mean extraordinary things for the cryptocurrency market.
There has been a rampant increase in the demand for cryptocurrencies in India by Twitter users with the IndiaWantsCrypto hashtag having been trending quite a few times. WazirX – India's largest crypto trading platform – has been showing phenomenal performance which is indicative of the rise in the popularity of cryptocurrencies in the country. The platform crossed $240 million in daily trading volume which is the highest recorded by any exchange in India.
Launch Of NFT Marketplace In India
The development team of the largest crypto trading platform, WazirX, has announced the launch of a NFT marketplace as well.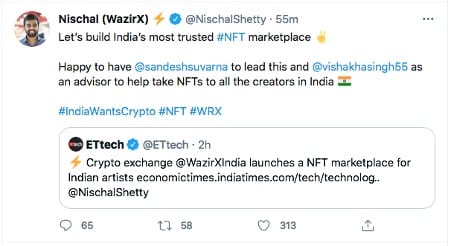 The Indian government has been wary of the cryptocurrencies and heated debates have ensued on the merits of banning cryptocurrencies. The Cryptocurrency and Regulation of Official Digital Currency Bill, 2021 proposed by the Reserve Bank of India extensively plans out the regulation of digital currencies while banning private coins entirely.
Read More: Bitcoin (BTC) to overtake gold soon?

Regulators throughout the world are confused about navigating through the tricky waters of the crypto world but seeing the interest of the masses. The growth potential of the fin-tech sector cannot be ignored by Indian regulators and, of course, the public interest.