The native token of Crypto.com (CRO) has continue to show amazing results.
At the time of writing CRO is being traded at the price of $0.5745. The price of CRO has increased by almost 22.24% in the past 24 hours. The maximum and minimum of the day are around $0.5938 and $0.4642. The daily trading volume has also increased by almost 215.79% in one day. CRO is listed on coinmarketcap at 15th spot according to market capital and has a market dominance of about 0.55%.
CRO before the crash had achieved its all-time high around the price of $13.230 in October 2021. Before the crash, it had a price of $0.17181 before it dropped down to $0.080. As compared to other coins it has been one of the fast gainers and it was not long before it created a new all-time soon after with the past five weeks closing bullish.
CRO has a total supply of around 30B tokens and has a circulating supply of around 25.26B coins. CRO can be traded at a lot of different exchanges such as crypto.com, OKEx, Huobi with different trading pairs.
Technical Analysis – Crypto.com
The price of CRO has been highly bullish and as a result, it has created a new all-time high today (no surprise as it is an exchange right?).
On the daily chart, we can see that the price has went on to break the structure to the lower side on the 4H time frame which may result in a possible movement of the price to the downside.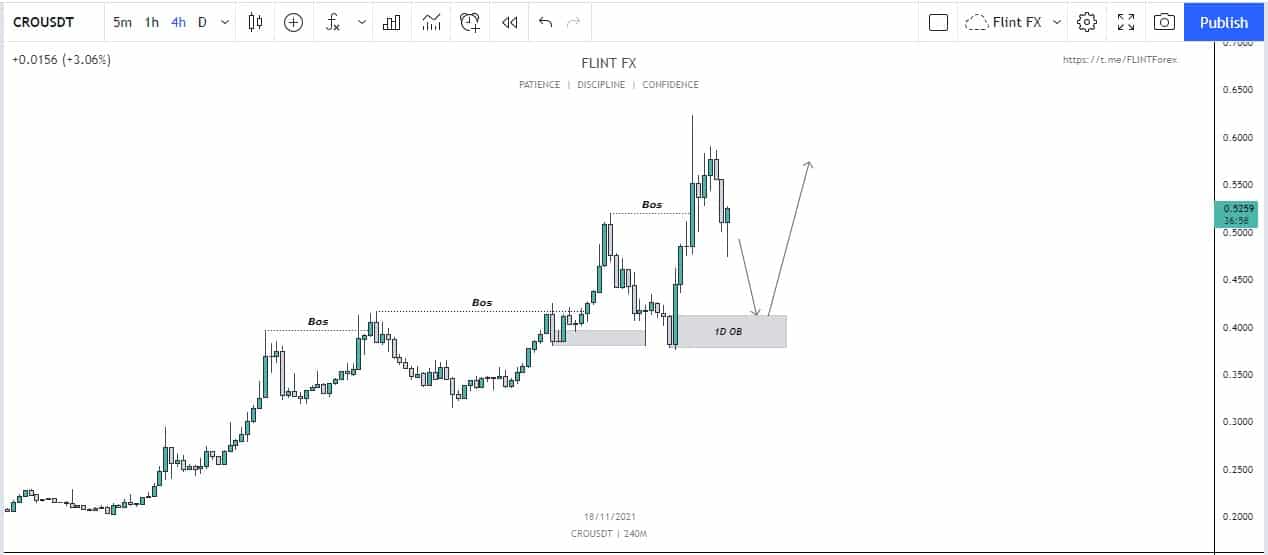 We can see that the price had created an order block which can drive the price down. Beside the inefficiency in the price, action is also a confluence to this short-term bearish move. If this happens we can expect a good bounce from CRO at that point. Overall the price is still bullish and its bullish structure would still be intact if it goes down to the daily order block.
Price Prediction – Crypto.com (CRO)
CRO is a highly good investment. The way the exchange is launching new partnerships, it wouldn't be long before it becomes one of the highly used exchanges. According to Digital Coin Price, It is expected to reach a value of $0.93 in one year. In five years CRO is expected to reach almost $2. But investors think that the price will go much higher than the one which is expected.