Paris Hilton had been one of the most vocal celebrity figures when it comes to cryptocurrencies. The entrepreneur cum socialite is bullish on the crypto market. Paris Hilton dropped a blog on her Twitter handle titled "I'm Excited about NFTs – You Should Be Too". In the detailed blogpost, Hilton went on about how NFTs enables, innovates and empowers. The businesswoman further teased the audience with her upcoming NFT project and chose to not disclose any details.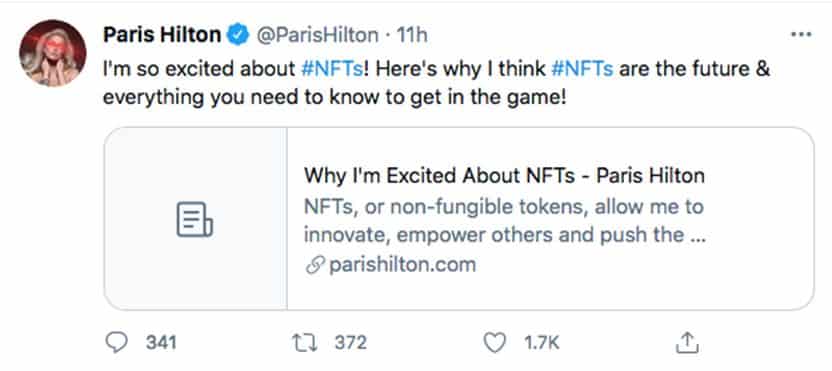 Hilton also delved into the NFT world more deeply starting from what non-fungible tokens are to the value they can add to artists and the unlimited opportunities that lie ahead in the NFT sphere. Per the actress/model, NFT's are "the future of the creator economy".
This is not the first time Hilton has vocalized her enthusiasm about the crypto sphere. In an interview with CNBC, Paris Hilton called Bitcoin "the future". The heiress showed her enthusiasm and excitement about cryptocurrencies and confirmed that she has been in the sphere for quite a while. Hilton has also changed her profile picture to laser eyes which depicts her expectations of Bitcoin crossing $100,000.
Hilton has been an avid support of Justin Sun and his Tron cryptocurrency. In a reply to a tweet by the Tron founder, the Hilton heiress talked about another dive into the NFT world after her first NFT launch last year which won the NFT Charity Award. She also hinted towards launching her NFT on the Tron block chain – asking Justin Sun to be ready.