Cardano (ADA) coin showed phenomenal performance in the recent bull run as the cryptocurrency climbed from a price of $0.18 to going as high as $1.4. the cryptocurrency is operating close to the new all-time high price level of $1.4. At the time of writing, Cardano stands at $1.27. After having crossed the $1 mark, higher target prices have been unlocked and investors are interested in knowing how high Cardano can go. Can Cardano (ADA) reach $10? Can it go higher?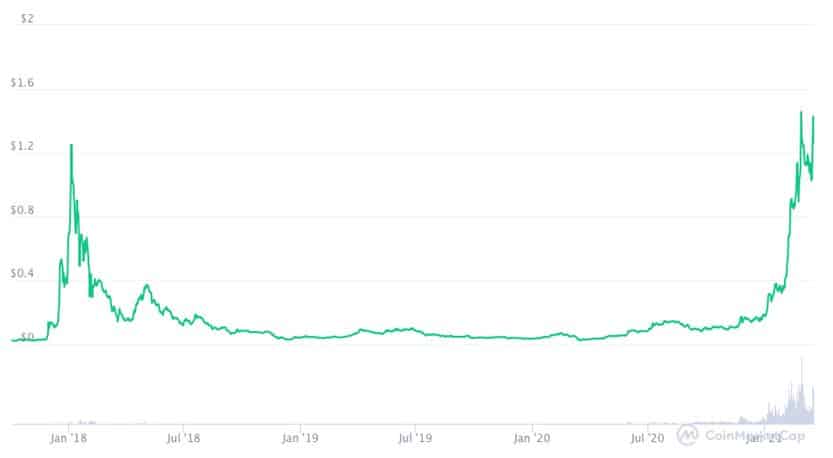 Cardano's aim is to help create a more equitable society by redistributing power from the few to the many. The Proof to Stake block chain is used to create smart contracts and, hence, decentralized apps. Cardano is ranked at 4th place in terms of market capitalization. In the 24-hour timeframe, the price of the cryptocurrency decreased by 12% while the daily trading volume rose by 9%.
Technical analysis
The market sentiment for the cryptocurrency is bullish. Out of the 26 technical indicators, 10 stand at a neutral position while 13 are at a buy position and three are at a sell position. The oscillators are mainly neutral while the Moving Averages are strongly bullish.

A trader as identified various important formations formed by the price action of the cryptocurrency. Cardano can be observed to have broken out from a formation and is on a steep upward trend. The bulls have the hold of the market and the price of the cryptocurrency can be expected to be on the rise. The analyst has set the price target of $2 for the Cardano. Achieving the first price target will unlock the subsequent price target of $3.5.
Is $10 possible in the near future?
Wallet Investor estimate a one-year price at $1.55 while in five years' time Cardano can have a price level of $3.58. Digital Coin Price is more optimistic for the future outlook of the coin and predicts a price of $5.61 in 2028.
While the cryptocurrency is bullish and all technical indicators indicate towards a price increase for the cryptocurrency, hitting $10 may not be a plausible option yet. Cardano is a good investment with a great return on investment if played right and future projections show a price of over $5 but it has not yet reached the stage where the $10 price target could be unlocked. Being the fourth largest cryptocurrency in the market, good things can be expected from Cardano given the market stays favorable as the cryptocurrency is brutally volatile and unforgiving.