Aave is a decentralized finance protocol which enables Ethereum holders to borrow and lend their cryptocurrencies in a decentralized manner. The native token of the network, AAVE is the largest DeFi token in terms of market capitalization. The algorithm-based money market obtains loans from a pool rather than from individual lenders.
Exploring New Frontiers
The success of the DeFi marketplace has led it to venture into other territories. The Decentralised Finance has gained popularity and its adoption does not seem to be slowing down any time soon. However, the high traffic led to congestion of the popular DeFi cryptocurrency, Ethereum, and other Ethereum-based cryptocurrencies, like AAVE. The high transaction fees have contrained the use of Aave to certain high-worth users which is against the fundamentals of the Aave network.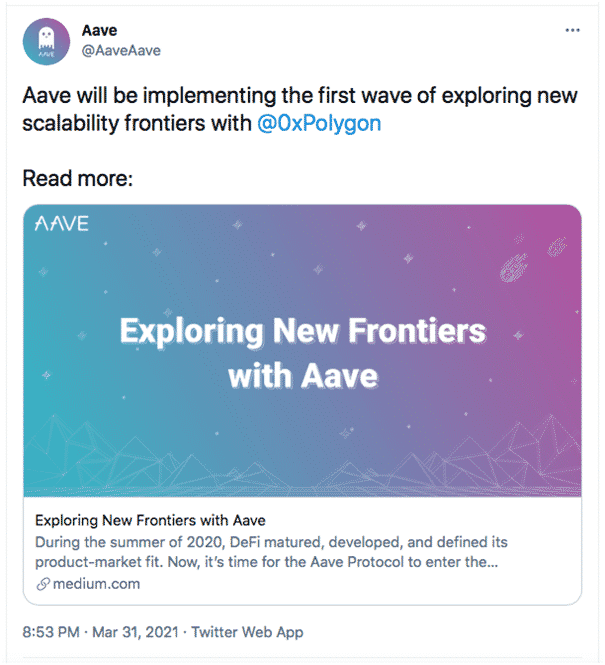 The exploring New frontiers initiative is to solve this problem by working on scalability. The first implementation of the program is with Polygon (MATIC). Polygon is a sidechain of Ethereum with key features being fast and cheap transactions – which makes it ideal for Aave.
The Aave market on Polygon will enable the use of MATIC as collateral. Furthermore, Chainlink will ensure the safety and security of the network. The Polygon Aave market will be launched with the assets, MATIC, USDC, USDT, DAI, WETH, AAVE and WBTC.
A smart contract bridge will also be launched which will enable users to transfer their favourite assets to the Polygon block chain and a part of transaction fees of MATIC tokens will also be given to users in order to cover their transaction costs on the Polygon block chain.
What does it mean for Aave?
The Ethereum-based cryptocurrency established its all-time high in February at $542 and is trading at $385 at the time of writing. The price has been on an uptrend in the 24-hour timeframe. With the market sentiment bullish, and the new announcement of integration with Polygon, AAVE can be expected to continue its climb upwards. Polygon will ensure scalability of the Aave network and this has made the Aave community very excited for the things that are to unfold.