Aave (AAVE) coin established its all-time high during the beginning of the year at $550 after which the coin inevitably fell. However, the bulls and bears have been fighting strongly over Aave coin as it has had sustained sideway movements ever since the ATH – indicating uncertainty in the market. The volatility has also been increasing gradually with impulsive moves and pullbacks becoming deeper. At the time of writing, Aave stands at a price level of $459. The price of Aave crypto has decreased by 4% while the trading volume has declined by 22% in the past twenty-four hours.
Aave (AAVE) Technical Analysis
A trader has identified Aave crypto to have formed a descending triangle. The formation of the triangle had begun in February and the cryptocurrency had not broken it since. The bottom boundary of the triangular formation lies at the price level of $300 and has been acting as a strong support level for Aave.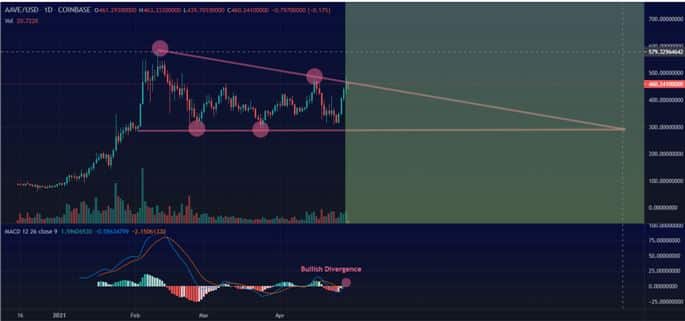 The Moving Average Convergence/Divergence is at a bullish divergence which may further fuel the bullish momentum of the coin. According to the trader, Aave coin may continue its sideway movements if the formation is not broken anytime soon. The cryptocurrency has tried to break out of the triangle but so far has not been successfully – indicating the upper boundary is acting as the strong resistance level. It is unclear yet who will be triumphant in the bulls vs. bears' fight.
Aave's liquidity mining program
The DeFi summer has resulted in a popularity spike of decentralized finance. Aave, the lending and borrowing platform, had been lagging because it had not launched a liquidity mining program – a way to incentivize liquidity providers by rewarding them. The community of Aave had submitted a proposal Aave Improve Proposal (AIP) 16 which got approved. Per the proposal, lenders and borrowers will not spilt 2,200 st AAVE every day.  The liquidity mining program is expected to propel the cryptocurrency to new heights.